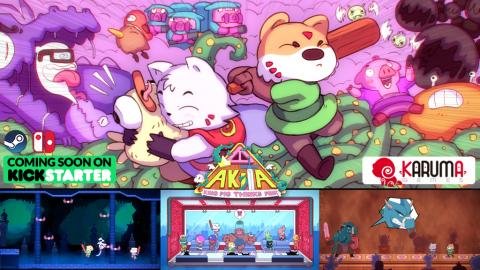 "Akita: King Pig Thinks Pink" is a 2D adventure-platformer metroidvania with hand-drawn animations, for 1 player or 2 players in cooperative mode.
THE GAME
Join our heroes, Akita and Lucy, on an exciting journey to find out the origin of the appearance of more and more monsters in the Kingdom of Fansia. Immerse yourself in a fantastic universe full of stories and charming characters. Explore and enjoy beautifully crafted levels. Face countless dangers and fight countless monsters and unexpected creatures. Discover treasures, surprises and secrets throughout this exciting adventure. Master your skills, dodge obstacles and solve puzzles. Find new and powerful allies and grow the hero within you.
REFERENCES
Artistic wise we have chosen Wonder Boy: The Dragon's Trap as the main influence, since we have given that cartoon touch which is very colorful and lively.
Holllow Knight for gameplay and mechanics – due to the fast and perfect response of the controls- and the platforming of Shantae and the Seven Sirens.
Lastly, Akita's sense of humor is clearly influenced by the works of Akira Toriyama.
FEATURES
1)Hand-drawn animation set in an enchanting fantasy universe. 2D hand-drawn animations, frame by frame, to give life to its creatures, characters and scenery. The game features a visual style reminiscent of colorful and adventurous cartoon series.
2)For 1 player or 2 players in local, you can enjoy it on your own or with the adventure partner you want.
3)Metroidvania style exploration. The game map offers a wide variety of areas that you can re-explore, while solving puzzles, discovering secret areas and objects, and facing multiple enemies.
4)A story with surprises and touches of humor. With a humor so simple and comical that amuses young and old alike.
5)Universal language. We believe that your origin or language should not be a barrier to have fun, so we have created a unique universe and a story told completely textless. The adventure is told through icons, vignettes and animations, which will make the experience completely understandable and fun regardless of your native language.
6)Varied and charismatic enemies. You can find more than 50 different types of enemies, throughout this exciting journey, in different shapes, sizes and moods!
7)Skills System: The game features an ally-based skill system that will allow you to walk through the game, discover new paths and expand your experience as a player.
8)Game with versions for PC and Nintendo Switch. The PC version will be released first on Steam. As we believe that Nintendo Switch lovers will like the game a lot, Nintendo Switch is a stretch goal on Kickstarter !!
Become a hero... What are you waiting for?
Type of Promotion You Are Seeking:
Bloggers/Reviewers
News/Press
Twitch Streamers
Youtube Reviews