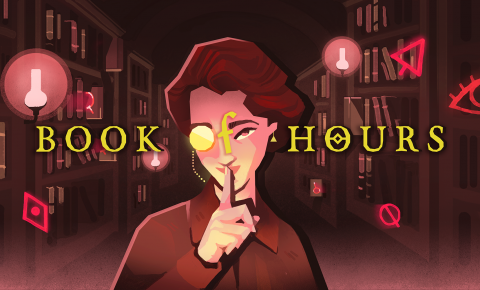 Restore a crumbling occult library by a winter sea. Build the world's foremost collection of grimoires and arcana. Master the invisible arts. BOOK OF HOURS is a narrative crafting RPG set in a 1930s world of hidden gods and secret histories. What sort of Librarian will you choose to be?
BOOK OF HOURS is an elegant, melancholy, combat-free RPG set in an occult library, from the creator of Fallen London, Sunless Sea and the double BAFTA-nominated Cultist Simulator.
In this 20 - 40 hour game, you'll:
◆ ACQUIRE, RESTORE and CATALOGUE occult books, scrolls and curiosities.
◆ STUDY the nine Wisdoms, and conquer the nine Elements of the Soul.
◆ GUIDE visitors who come seeking your assistance, choosing their paths and stories.
◆ EXPLORE the Secret Histories and the pantheon of Hours that rules them.
◆ RESTORE a vast crumbling edifice built on the foundations of an ancient abbey.
◆ WREST your past from obscurity. Choose from nine different Legacies which determine who you are. You might be a Magnate, abandoning wealth to seek peace. Or an Archaeologist, fleeing the curse you awoke. Or perhaps your origins are more esoteric, like the Symurgist, or Twiceborn? Each playthrough offers different opportunities.
Type of Promotion You Are Seeking: