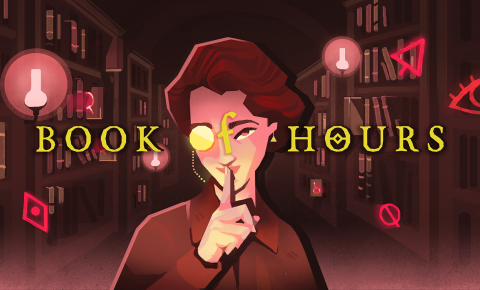 BOOK OF HOURS - Launch Trailer Reveal
EMBARGO:
5PM BST / 9AM PDT
Thursday 27th July
London, UK — BAFTA-nominated Weather Factory (creators of Cultist Simulator, previously Fallen London and Sunless Sea) today reveals a launch trailer for popular upcoming RPG BOOK OF HOURS. The library simulator which started as a throwaway tweet now has 100k wishlists on Steam, so it's one to watch when it launches next month on Thursday 17th August.
Download trailer here: https://www.dropbox.com/scl/fi/9lzw4z1anytpdina1wmjb/BOH_Launch_1080p_h264.mp4?rlkey=6uc9fcl881zy6bqt3atdlb278&dl=0
The new, never-before-seen launch trailer shows some of BOOK OF HOURS' deepest mysteries, from the nature of the gods to the game's updated crafting system, final Wisdom Tree and what lies beneath the stones of the library you're rebuilding.
Key Info
Developer/publisher: Weather Factory
Release date: 17th August 2023 @ 6PM BST / 10AM PDT
Storefronts: Steam + GOG (Windows, Mac, Linux)
Price: £19.99 / $24.99
About BOOK OF HOURS
"Shutter the windows against the sea. Bank the fire against the cold. Listen to the rain rattle on the roof, while you slide books one by one into their ancient nests…"
Restore a crumbling occult library by a winter sea. Build the world's foremost collection of grimoires and arcana. Master the invisible arts. BOOK OF HOURS is a narrative crafting RPG set in a 1930s world of hidden gods and secret histories. What sort of Librarian will you choose to be?
20-40 hours playtime for each of the nine starting roles
Innovative, text-driven 'narrative crafting' mechanics
Captivating lore and industry-leading writing from the creator of Fallen London, Sunless Sea and Cultist Simulator
Lovingly hand-drawn art inspired by fairytales and Wes Anderson
101 unique endings to unlock
Assets
Press kit - https://weatherfactory.biz/book-of-hours-streamer-press-kit/
Assets - https://bit.ly/BoHpresskit
Trailer - https://bit.ly/welcometoHushHouse
Steam page - https://store.steampowered.com/app/1028310/BOOK_OF_HOURS/
Website - https://weatherfactory.biz/
About Weather Factory
Weather Factory was co-founded in 2017 by Alexis Kennedy and Lottie Bevan to make ingenious narrative games with a consciously indie aesthetic. The teeny two-person studio released double-BAFTA-nominated Cultist Simulator, luxury Lovecraftian TRPG The Lady Afterwards, and are currently developing BOOK OF HOURS, an elegant, melancholy, combat-free RPG set in an occult library.
Twitter / Facebook / Instagram / YouTube
Contact Information
For more information or preview / review keys, please contact:
Lottie Bevan - Co-Founder, Weather Factory
lottie@weatherfactory.biz / 07795 006246
Type of Promotion You Are Seeking:
News/Press
Twitch Streamers
Youtube Reviews
Paid Promotion