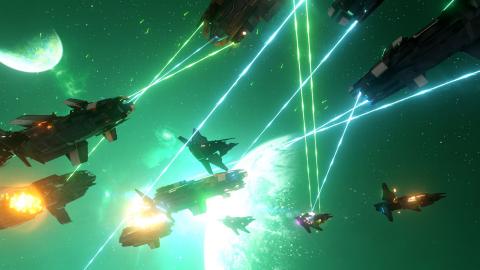 Get ready for cosmic domination as space combat/strategy title Executive Assault 2 today makes its long-awaited landing onto Steam Early Access.
Created by solo indie developer Robert Hesketh of Hesketh Studios, Executive Assault 2 blends gameplay into two distinct types: real-time, top-down strategy known as Tactical Mode and first-person, fast-paced combat action called Direct Control mode.
With the Earth destroyed, players must grab their suit and tie as they begin life as a CEO of an inter-galactic corporation whose business objective is to accumulate as much wealth as possible in a galactic wild west of chaos and lawlessness and assassinate multiple rival corporation CEOs in order to take over nine large-scale system while battling against the various environmental factors, including ion and asteroid storms.
Gamers can customise their corporation as they see fit, with the emblem and company, unit and product names all set by the player, and research over 60 technologies and build 14 different units including 12 ships and multiple soldiers – all of which can be upgraded in the game's diverse upgrade tree.
Players can take control of individual units, and turning the tide in battle is the game's super-weapon, the Monolith – capable of destroying an entire star-system at the push of a button.
All business leaders need good allies to be successful, and that's why players can team up with friends and other players worldwide in the game's PvE multiplayer mode. One player assumes the role of CEO and tactician and the others, a soldier or ship unit, with all the loot split straight down the middle.
Type of Promotion You Are Seeking:
Bloggers/Reviewers
News/Press
Twitch Streamers
Youtube Reviews