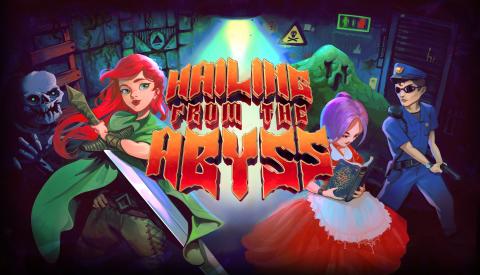 Indie Game Press - Hailing from the Abyss
Game Store link : https://store.steampowered.com/app/1797480/Hailing_from_the_Abyss/
Hey, we are developers of the new upcoming rhythm game "Hailing from the Abyss" and we are interested in being featured on your Indie Game Coverage! Here's some info about our game:
Hailing from the Abyss is a rhythm game with a combat twist - fight your enemies by pressing a button accordingly! The game includes a kill, damage, or heal system that can be defined as combat-like. The basic formula of the game is based on classic rhythm games such as "Osu!" or "Guitar hero" but with added mechanics that makes our game more special than the others.
Hailing from the Abyss will include all the stuff that makes combat and rhythm games fun and enjoyable! With plenty of unique enemies and levels, we are more than confident that Hailing from the Abyss will deliver a fun and enjoyable experience.
We aim for short but strong experience and fresh but familiar gameplay that can be enjoyed by both casul and hardcore rhythm game players alike.
Here is some of the stuff that makes our game interesting :
Usable / avoidable Objects(items): "Hailing from the Abyss" has some interesting avoidable or usable items that will come down in the rhythm bar during the gameplay. For example, "Heal" object will be able to heal players if pressed at the right timing. Since the game does not allow any form of healing just by key pressing, players will learn to look and wait for the Heal object, this may result in the player feeling more nervous and engaged when in a difficult situation.
Linear game-play difficulty : "Hailing from the Abyss" will provide linear path gameplay experience which slowly increases difficulty as the game goes on. Often or not, most of the rhythm game players stick to their difficulty that they are most used to. But because of that, many players are unable to learn and try out the difficulty that is even slightly out of their comfort range. So, with rhythm games increasing game difficulty as the game goes on, players are able to learn and have thrilling experiences of the unknown. (However, the game will include assist mode for more none experienced players.)
Store system (None Microtransaction): "Hailing from the Abyss" will include an in-game store system which will make players able to purchase various items that can be used during gameplay, this is quite unheard of in the traditional rhythm game.
We truly believe that this game can achieve more than most of the rhythm games out there, with some tweaks and adjustments from the original formula, we believe "Hailing from the Abyss" can bring joy and fun to players and effectively teach the joy of rhythm games even to the newcomers.
Game Genre:
Action
Adventure
Casual
Indie
Other
Type of Promotion You Are Seeking:
Bloggers/Reviewers
News/Press
Press Release:
I Don't Have a Press Release