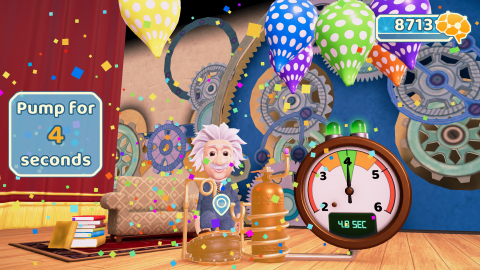 Human Heroes Counting Fun - a brand new educational game that teaches children how to count in seconds featuring Stephen Fry as Albert Einstein!
App Store: https://apps.apple.com/app/human-heroes-counting-fun/id1488787363
Google Play: https://play.google.com/store/apps/details?id=kalam.tech.hheinstein.balloon
Using simple tap and hold mechanics, children count along to Einstein as they inflate different colored balloons, learning that pumping a balloon for too long will cause it to pop! Subsequently, not pumping a balloon long enough will send it flailing in the air!
To keep the learning experience fresh each and every time, the game also contains score multipliers, a tries system (similar to lives), local leaderboards for fun competition with friends and family and infinite levels as children watch their screen fill with tons of balloons.
We've designed this game in conjunction with education specialists (we have an in-house assistant headteacher!) and we've implemented scaffolding teaching techniques throughout, meaning children only progress to a new question once they've fully understood the current section.
This is a completely free app with no in-app purchases, no subscriptions or signups and can be played offline, with no internet or Wi-Fi connectivity required for the ultimate safe learning experience.
Game Genre:
Adventure
Casual
Education
Indie
App
Other
Type of Promotion You Are Seeking:
Bloggers/Reviewers
News/Press
Youtube Reviews