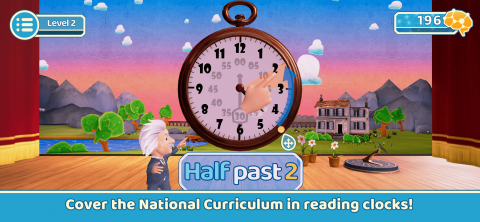 New EdTech start-up Kalamtech has just launched Einstein's Clock for mobile devices - helping young children learn how to tell the time.
Available for free with no in-app purchases, adverts, or subscriptions, this title was created in collaboration with our in-house EdTech specialists and features the iconic British actor, writer, and comedian Stephen Fry as the voice of the charismatic scientist Albert Einstein.
Covering topics and subject areas from the UK the National Curriculum, Einstein teaches children all about hour and minute hands and different clock configurations including O'Clock, quarter and half, and past and to, across 8 different levels. Kids also learn about different types of clocks, moving clock hands backward and forwards to witness the effect of time on day and night, and complete exciting educational challenges to earn Synaptocoins.
Human Heroes Einstein's Clock is available to download for free from the App Store: https://apps.apple.com/app/human-heroes-einsteins-clock/id1463380511
Human Heroes Einstein's Clock is available to download for free from Google Play: https://play.google.com/store/apps/details?id=kalam.tech.einsteindemo
Game Genre:
Adventure
Casual
Education
Indie
App
Type of Promotion You Are Seeking:
Bloggers/Reviewers
News/Press
Youtube Reviews