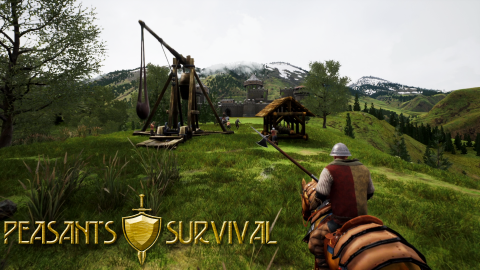 Peasants: Survival». From peasant to king
Work the way up from a poor peasant to king!
Unlike melee-centric medieval games, «Peasants: Survival» focuses on ranged combat, allowing the game to generate lots of combat variations and flows, depending on teamwork, weaponry type, cavalry presence and many other factors.
​ ​ ​ For those who like to cross blades in melee combat, the game offers a completely unusual approach to its implementation. Blade strikes exactly where you direct it and the enemy will need to protect precisely that part of the body in a timely manner. No timed blocking or strict poses - your blade is an extension of the arm!
There are a wide variety of weaponry and armor. Each weapon can be used for both melee and ranged combat, and has unique characteristics that directly affect a gaming style. Hit a distant target with a spear, throw an ax at a close one, and unsheathe your sword in melee combat!
And to become a castle owner it is not enough just to fight.
Explore a map to search and mine resources, hunt down wild animals, freely trade and exchange goods among each other.
Build bases: «Peasants: Survival» will provide complete freedom in structures design! Place lots of doors and walls for raids protection, place deploys for the production of food, weapons, armor, hide valuable loot in secret rooms, etc.
Remember, all constructions in «Peasants: Survival»​ are destructible!
So, to defend a little hut or a big castle, you need to come together with your friends. Do not neglect tactics - coordinate the actions with your teammates, taking into account the weapons chosen. Archers can shoot arrows from distant positions, swordsmen can surprise with ambushes, and cavalry can always go for a quick raid on enemies.
If don't like playing on official servers, host a custom server and make your own rules! It might be public or available to your friends only.
​ Make your own medieval history in «Peasants: Survival»! If you can survive…
Type of Promotion You Are Seeking:
Bloggers/Reviewers
News/Press
Press Release:
I Don't Have a Press Release