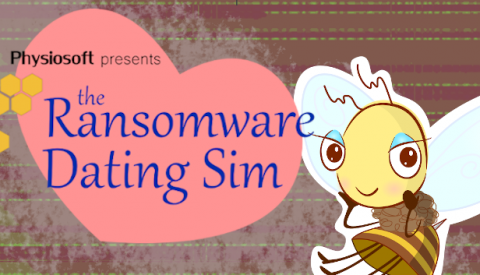 [Short Description]
Find true love among a collection of ransomware applications that might not have your interests at heart. (As such is life!)
2-3 hours gameplay.
The trailer on Steam shows best on what to expect: https://store.steampowered.com/app/1169430/Ransomware_Dating_Sim/
Contact me if you need any Steam keys.
[Long Description]
Dear Valued Customer,
Physiosoft would like to welcome you to your next adventure!
Do you feel listless, underappreciated, or inarguable? Our most discrete software toolset has politely followed your browsing history for some months and has tailored a perfect experience just for you. It is time to revitalize your soul with the diaphaneity of love!
Install the Ransomware Dating Simulator now, and 'Bring Your Love Back Online!'(TM)
This app is an interactive story where your love is the center of everything! Will your choices spurn the heart of your True One? Or will you gain the respect and admiration of all? Play now to discover how you will fare!
Thank you for the continued support of our products,
The Physiosoft Customer Intermediary Beneficial Interaction Team Services Group (PCIBITNSGA)
Type of Promotion You Are Seeking:
Bloggers/Reviewers
News/Press
Twitch Streamers
Youtube Reviews