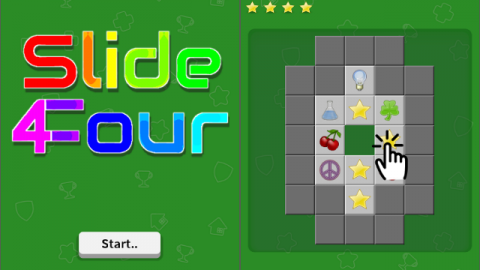 Do you remember the old 15 puzzle game that we all played as kids? Well, Slide Four is the evolution of that.
Slide each tile to form a group of four tiles or more and collect contained items.
Be warn: this can block your next move!
Solve the puzzle, gain stars, collect coins, buy upgrades that helps you in the enigma and try to get the maximum score possible for all levels.
Show that you know how to master the world of Slide Four!
Help the tiles to group with their fellows. Start with beginner levels up to very difficult ones.
HOW TO PLAY:
The gameplay is similar to the game of 15 and consists in sliding the tiles to group them by type.
A tile can be moved only if adjacent to empty spaces.
When you group four or more tiles, the goods they contain are collected and they becomes blocks.
The puzzle solution become harder, because you can not slide anymore a block.
This makes it more difficult to reach the maximum number of objects present in a stage: when new blocks will be formed you may no longer able to slide tiles and you must restart the puzzle.
Play your match with calm and logic: check the move and possibles alternatives.
GAME FEATURES:
• Single player, slide puzzle strategy.
• Collect goods to earn coins, spend coins to buy upgrades that can help you to solve hard levels.
• Collect stars to unlock new worlds, each containing new ingenious levels to play.
• Get the max result available & get ready for new match.
• Easy to play, hard to master.
• Place the tiles with logic before slide the last of them to collect more than four pieces.
• Explore fun and addicting levels.
• Try to collect all the stars present in each match. If you can't, try to use an upgrade.
• Enjoy the simple design with relaxing game melody and fun sound fx.
Type of Promotion You Are Seeking:
Bloggers/Reviewers
News/Press
Youtube Reviews
Press Release:
I Don't Have a Press Release