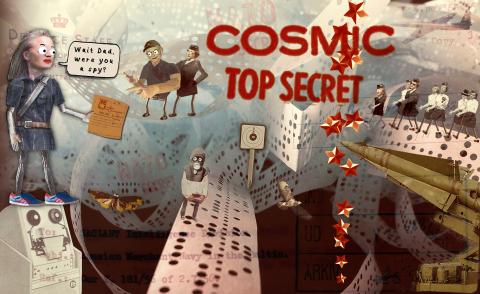 Independent game studio Those Eyes and film studio Klassefilm today announced that its true-story adventure game Cosmic Top Secret is now available for download on PC and mobile. Best described as a hybrid of reality and fantasy told in an abstract papercraft world, Cosmic Top Secret has been seven years in the making.
The game tells the incredible true-life story of 'T' (Trine, the game's lead developer) and her journey to discover more about her parent's involvement with the Danish Intelligence Service during the Cold War.
Cosmic Top Secret stems from a portfolio of over 100 hours of video and audio footage, as players flick, roll and glide their way across six distinct levels, uncovering clues and completing secret dossiers by gathering over 400 collectables. Along the way, players meet a cast of colourful and unforgettable characters including Queen Margrethe II of Denmark.
Cosmic Top Secret is available on Steam at: https://store.steampowered.com/app/785100/Cosmic_Top_Secret/
Cosmic Top Secret is available as a premium app on the App Store at:
https://itunes.apple.com/tr/app/cosmic-top-secret/id1005498745
Cosmic Top Secret is available as a premium app on Google Play at: https://play.google.com/store/apps/details?id=tv.laier.Cosmic
Type of Promotion You Are Seeking:
Bloggers/Reviewers
News/Press
Twitch Streamers
Youtube Reviews