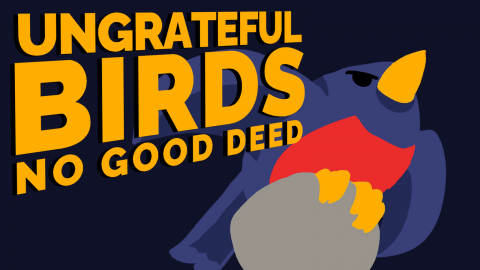 When you're walking through the forest late one night, you hear the distressed cries of birds who have been cruelly confined to cages echoing all around you. Someone must help set the poor birds free, and no one else is around. But when you open their cages, they will not be grateful—the confused and angry creatures will turn on you. Go it alone or call in a friend. This could take all night.
In UNGRATEFUL BIRDS: NO GOOD DEED, travel through five different environments and save ten different types of birds in over three dozen stages.
And then, continue your journey into the harsh sun of the red-rock desert in UNGRATEFUL BIRDS: CALL OF THE DESERT (available for an additional price) with a handful of new birds and over a dozen new stages.
Both NO GOOD DEED and CALL OF THE DESERT are fast-paced, slapstick action platformers for one or two players.
KEY FEATURES:
Frantic platforming action with light puzzle elements
Over 50 challenging stages between both games
Optional "easy" difficulty mode
Two-player cooperative mode with support for keyboard and/or gamepads
Customizable keyboard and gamepad controls
English- and Japanese-language support
Soundtrack features original music track by Amon26
Type of Promotion You Are Seeking:
Bloggers/Reviewers
News/Press
Twitch Streamers
Youtube Reviews